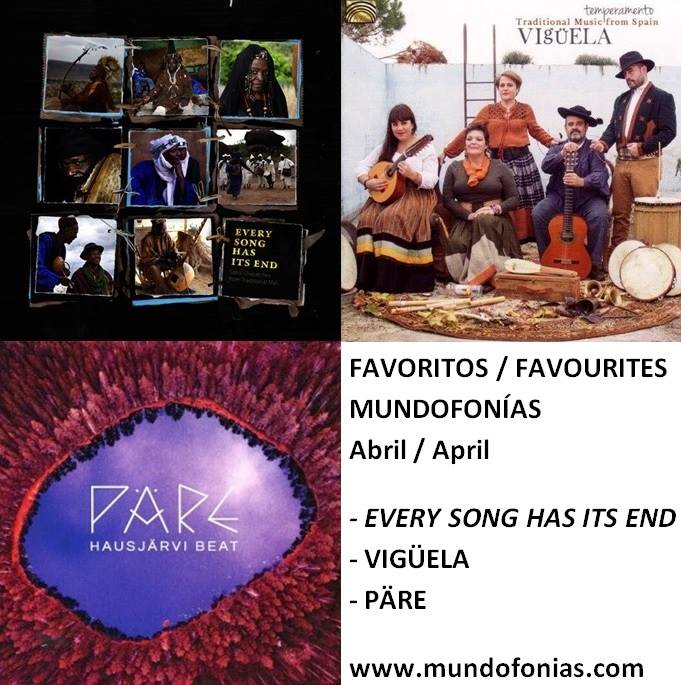 - Favoritos de abril / Del corazón de África al Sol Naciente
- April favorites / From the heart of Africa to the Rising Sun
Empezamos con el repaso de los tres discos favoritos del mes (Päre, desde Finlandia; Vigüela, de Castilla, España, y la recopilación Every song has its end, desde el Mali más tradicional). Las siguientes músicas nos llevan por un viaje emocionante por Centroáfrica, Palestina, Pakistán, Japón y Corea.
We start with a review of the three favorite albums of the month (Päre, from Finland; Vigüela, from Castile, Spain, and the compilation , from the most traditional Mali). The next tunes carry us in an exciting journey through Central Africa, Palestine, Pakistan, Japan and Korea.
Favoritos de abril / April favorites

Päre - Gammal vals från Lappträsk / Långdans (Hausjärvi Beat)

Vigüela - El fandango de la Mancha (Temperamento)
Del corazón de África al Sol Naciente / From the heart of Africa to the Rising Sun
[Artistas populares / Popular artists] - Mo boma (berceuse) (V.A. - Centrafrique. Anthologie de la musique des Pygmées Aka)
[Artistas populares / Popular artists] - Boyiwa (chant de déploration sur le cadavre) (V.A. - Centrafrique. Anthologie de la musique des Pygmées Aka)
Reem Kelani - Springting gazelle - Live at the Tabernacle
Sandaraa - Jegi jegi lailajan (Sandaraa)
Kaoru Watanabe - Chiru
E-Do - Kangwondo arirang (Yeominrak)