Martes, 29 de Marzo de 2016 16:16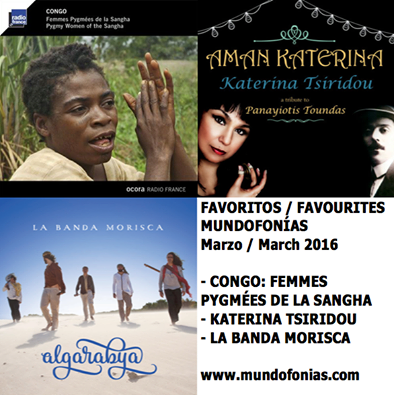 - Favoritos de marzo, encuentros y viajes.
- March Favourites, encounters and travels.
Empezamos con los tres discos favoritos del mes, a cargo de Katarina Tsiridou, La Banda Morisca y el volumen de Ocora-Radio France dedicado a los cantos de las mujeres pigmeas de la Sangha en Congo. Continuamos con encuentros nórdico-flamencos, turco-senegaleses o belga-magrebíes; escuchamos la nueva videocanción de Filastine y nos vamos también a Polonia y al lago Baikal.
We begin with the three favourite albums of the month, from Katarina Tsiridou, La Banda Morisca and Ocora-Radio France' release dedicated to the Pygmy women of Sangha in Congo. We continue with Nordic-flamenco, Turkish-Senegalese and Belgian-North African encounters, we listen to the new Filastine's videosong and we also travel to Poland and the Baikal Lake.
[Artistas populares / Popular artists] - Bolobé (aka-mbenzélé) (V.A. Congo: Femmes pygmées de la Sangha - CD) [favorito / favourite Mundofonías]
Katerina Tsiridou - Bidagiala (Aman Katerina - A Tribute to Panayiotis Toundas - CD) [favorito / favourite Mundofonías]
La Banda Morisca - Rumaiquiya y Mutamid (Algarabya - CD - MP3) [favorito / favourite Mundofonías]


Josemi Carmona & Javier Colina - Tía Marina Habichuela (De cerca - CD - MP3)
Robert 'Robi' Svärd - La chispa (bulerías) (Pa'ki pa'ka)
Menil - Gipsy unity (Menil - CD)
Ablaye Cissoko et Constantinople - A l'écoute du Moro (Jardins migrateurs - CD - MP3)
MW'Soul - Sejidatun [avance / preview]
Filastine - The miner [avance / preview]
Shono - Galtay uul (Hunters - MP3)
Maciej Rychly, Elisabeth Seitz, Mateusz Rychly - Doyna vallacha (Uwolnione Dźwięki / Released sounds)
Pincha en los enlaces para comprar las canciones o los discos a igual precio: te costará lo mismo y así apoyarás el sostenimiento de Mundofonías.
Click the links to purchase the songs or the albums: you'll pay the same but you'll help to support Mundofonías.