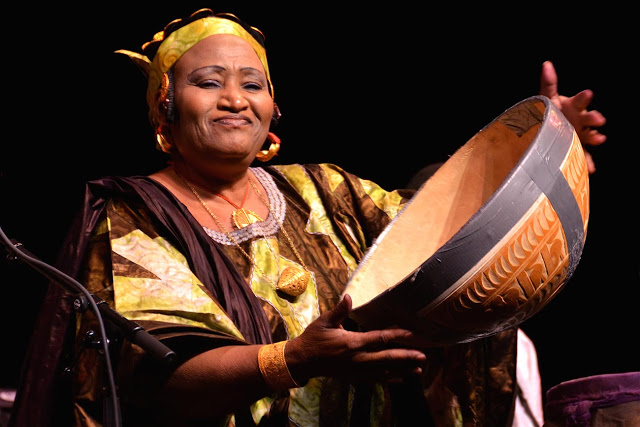 - No podrán acabar con la música
- They won't be able to kill the music
Hoy comenzamos de nuevo en la isla de La Reunión, con ese latido de libertad que estuvo una vez perseguido: la música maloya. Seguimos, tras hacer escala en Bamako, Nápoles y en una Francia cosmopolita, hacia territorio en guerra, con músicas que resisten contra el desastre de la violencia y la prohibición de los fanáticos religiosos de mente abducida. Bailamos ritmos de esperanza en Irak y en Siria, y escuchamos a los músicos del norte de Mali advirtiendo que, para acabar con la música, tendrán que acabar con ellos antes.
We start again in the Réunion Island, with that freedom pulse that was once forbidden: maloya music. After some stopovers in Bamako, Napoli and a cosmopolitan France, we enter into war zones, with music that resists against the disaster of violence and the ban by the abduced-minded religious fanatics. We dance rhythms of hope in Iraq and Syria and we listen to the musicians from Northern Mali saying that, if they want to kill the music, they will have to kill them first.
Mélanz Nasyon - Bato zalman - Fyèr maloyèr
Stéphane Grondin - Banalé - Maloyattitude
Invisible System in Mali - Ebah (Proud mothers) - Bamako nommos sessions volumen 1
Lalala Napoli - Bluzz - Disperato
Alif - Dans mes rêves - Alif
Rahim AlHaj - Voices to remember - Letters from Iraq
Omar Souleyman - Ya bnayya - To Syria, with love
Fadimata Walett Oumar - Children's song - They will have to kill us first: Malian music in exile [VA] [BSO/OSB]
Khaira Arby - Amalgam - They will have to kill us first: Malian music in exile [VA] [BSO/OSB]
Songhoy Blues - Baba hou - They will have to kill us first: Malian music in exile [VA] [BSO/OSB]
Abdallah Ag Alhousseini - Asswl - They will have to kill us first: Malian music in exile [VA] [BSO/OSB]
Ali Farka Touré & Toumani Diabaté - Machengoidi - They will have to kill us first: Malian music in exile [VA] [BSO/OSB]
Foto: / Photo: Khaira Arby
La información de cada pieza se presenta en este formato: Artista/Grupo - Canción - Álbum.
Each track's info is presented in this format: Artist/Band - Track - Album