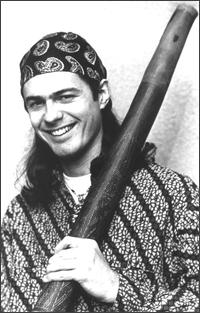 - Ferias, premios y homenaje a Dr Didg
- Fairs, awards and tributo to Dr Didg
Programa nº 2 de octubre, con el homenaje a uno de los impulsores del didyeridú más allá de su contexto tradicional en Australia: Graham Wiggins o Dr Didg. Escuchamos también músicas que estarán presentes en la Fira Mediterrània de Manresa, en WOMEX y en el Premio Andrea Parodi, en Cerdeña, adonde acudirá Juan Antonio Vázquez como miembro del jurado. Terminamos con varias novedades musicales afromadrileñas.
Show #2 of October, With a tribute to one of the pioneers that took the didgeridoo beyond its traditional context in Australia: Graham Wiggins aka Dr Didg. We also listen to some music that will be present at Fira Mediterrània de Manresa, WOMEX and Premio Andrea Parodi, in Sardinia, where Juan Antonio Vázquez will travel as a member of the jury. We end up with some Afro-Madrilenian new releases.
Dr Didg - Street music - Out of the woods
Outback - Cuban connections - Dance the devil away
Talabarte - Fendendo achas [cortesía de / courtesy of: WOMEX]
Spontus - Gavotte tamm kentan - Spontus
Yacine and the Oriental Groove - Mare, tornaré demà - Mediterranean clash
Andrea Parodi & Al Di Meola - Amargura - Armentos: Midsummer night in Sardinia
Seydu - Sumbuyaye - Sadaka
Mû Mbana - Dimokracia - Iñén
Ogun Afrobeat - Olofofo - Koko iroyin