Lunes, 30 de Enero de 2017 17:16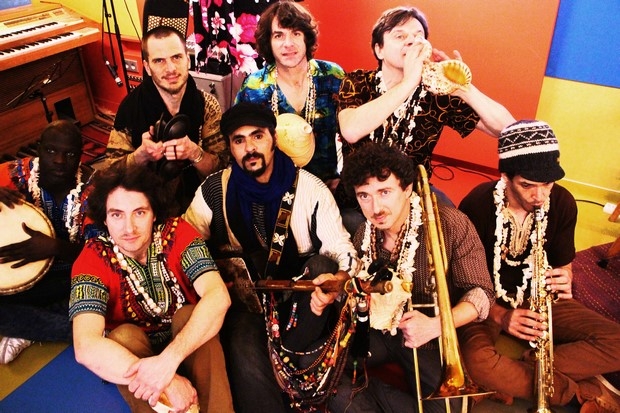 - Américas y Áfricas
- Americas and Africas
Programa nº 6 de enero, con sones latinoamericanos, norteamericanos y africanos
Show #6 of January, with Latin American, North American and African tunes
Exequiel Mantega - El negro - Solo piano
Michel Camilo & Tomatito - Armando's rhumba - Spain forever
Dani & Debora Gurgel Quarteto - Samba pra Rita - DDG4
Osman Martins & Quatuor MP4 - Zabumbatia - Vontade saudade
Buckwheat Zydeco - Throw me something, mister - Lay your burden down
BeauSoleil avec Michael Doucet - Two-step de Port Arthur - From Bamako to Carencro
Roy Harvey & Jess Johnson - Guitar rag - The Rough Guide to hillbilly blues [V.A.]
Jimmie Rodgers - Mule skinner blues (Blue yodel #8) - The Rough Guide to hillbilly blues [V.A.]
Sam McGee - Buck dancer's choice - The Rough Guide to hillbilly blues [V.A.]
Mateo Rived & Friends - Kothbiro - It
Kandiafa - Kabako - Kabako [EP]
Stromb & Global Gnawa - El sultan - Oceanic trance
Tinariwen - Sastanàqqàm - Elwan
Foto / Picture: Stromb & Global Gnawa
Martes, 24 de Enero de 2017 14:39
Favoritos Mundofonías | Enero 2017
Mundofonías' Favorites | January 2017
Kanazoé Orkestra - Miriya (Buda Musique)
Óscar 'el Inca' Miranda - Charangojina (Epsa Music)
Praed - The fabrication of silver dreams (Annihaya)
Escucha el programa especial: / Listen to the special show:
Mundofonías Ene 2017 #5 | Favoritos de enero, celtas y otros bardos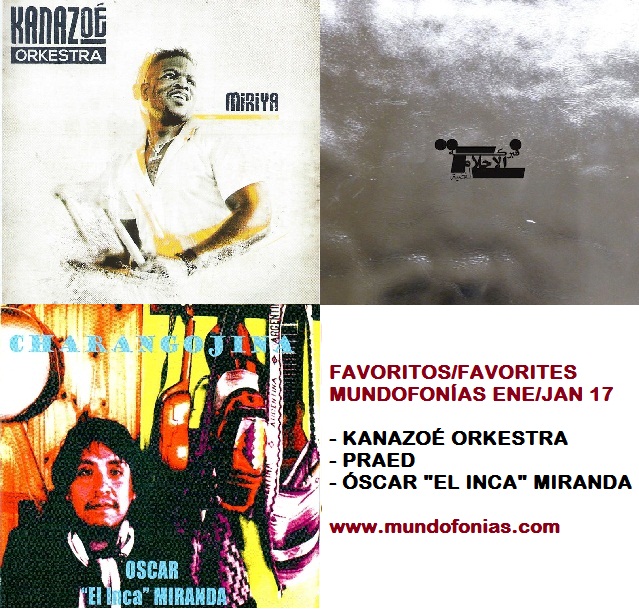 Sábado, 21 de Enero de 2017 11:12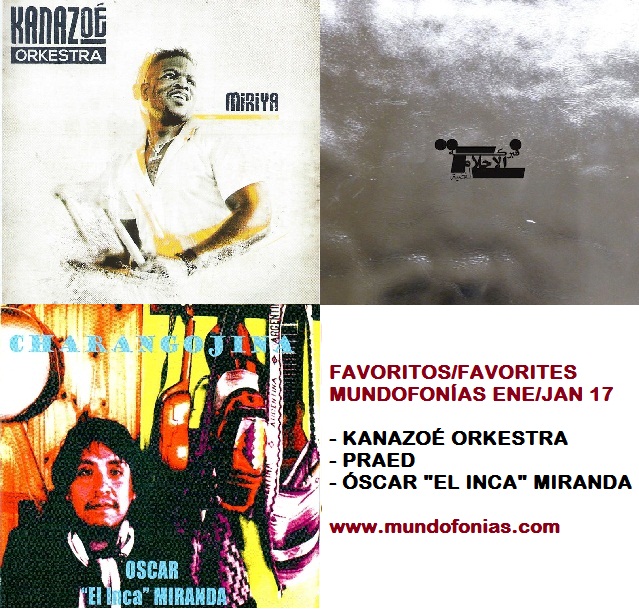 - Favoritos de enero, celtas y otros bardos
- January favorites, Celts and other bards

Programa nº 5 de enero, con los tres discos favoritos de Mundofonías de enero del 2017, a cargo de Praed (Líbano), Kanazoé Orkestra (Burkina Faso/Francia) y Óscar "el Inca" Miranda (Argentina), para continuar con otras inspiraciones principalmente célticas.
Show #5 of January, with the three January 2017 Mundofonías favorite albums, by Praed (Lebanon), Kanazoé Orkestra (Burkina Faso/France) and Óscar "el Inca" Miranda (Argentina), to continue with more inspirations, mainly Celtic.
Favoritos de enero / January favorites
Praed - Stoned crocodiles - The fabrication of silver dreams
Kanazoé Orkestra - Dianfa - Miriya
Óscar 'el Inca' Miranda - Zona quirquinchos (huayno) - Charangojina
Celtas y otros bardos / Celts and other bards
Katie McNally Trio - Colin Macintosh / Black horse - The Boston states
Battlefield Band -  Tending the steer / Sandy Thompson / The Calrossie cattle wife - The Producer's choice
Denez - An teodoù fall - Live: A-unvan gant ar stered / In unison with the stars
The Secret North - Waves from another shore - Live
L'Rollin Clarinet Band - El año del funambulista - L'rollin roads
Boc - Toni Bardo - Sa comunitat d'en Toni Bardo
Viernes, 20 de Enero de 2017 16:29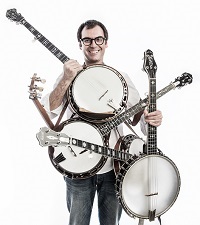 - Bluegrass y otras hierbas
- Blue and other grasses
Programa nº 4 de enero, con muchas músicas bluegrass y aledañas.
Show #4 of January, with a lot of bluegrass and related music.
Barcelona Bluegrass Band - Malvado rocker - Old time blues
Grazztrio - Caraman - Three sheets to the wind
Lluís Gómez - Nofuentes BB & B - Dotze contes
The All Star Jam - Roll in my sweet baby's arms - Rural Rhythm 55 year celebration: Live at Graves Mountain
Don Reno & Bill Harrell with The Tennessee Cut-Ups - Limehouse blues - Don Reno & Bill Harrell with The Tennessee Cut-Ups
Hylo Brown - Maggie - Legends & tall tales
The Bluegrass Album Band - On my way back to the old home - Lonesome moonlight: Songs of Bill Monroe
Blue Highway - A long row to hoe - Original traditional
Steve Gulley & New Pinnacle - Leaving Crazy Town - 2015 IBMA WOB Bluegrass Ramble Showcase preview [V.A.]
The Original Five - Singing of the rain - 2015 IBMA WOB Bluegrass Ramble Showcase preview [V.A.]
Jim Kweskin & Geoff Muldaur - Down on Penny's Farm - Penny's Farm
Daniel Koulack - No telephone - Frailing to succeed
Ben Plotnick - Railroad to Babylon - Greenland
Caleb Klauder & Reeb Willms - Been on the rocks - Innocent road
Sam Bush - Greenbrier - Storyman
Foto / Picture: Lluís Gómez

Viernes, 13 de Enero de 2017 17:15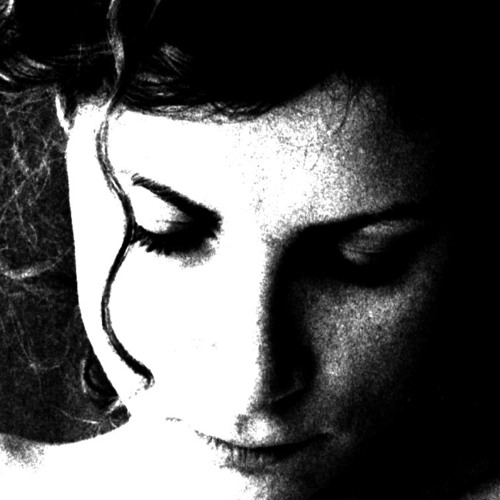 - De los Andes al Bósforo
- From the Andes to the Bosphorus
Programa nº 3 de enero, con músicas de Argentina, Cuba, Brasil, Grecia, Chequia, Dinamarca, Estados Unidos, Líbano y Turquía.
Show #3 of January, with music from Argentina, Cuba, Brazil, Greece, Czech Republic, Denmark, USA, Lebanon and Turkey.
Óscar "el Inca" Miranda - Charangojina (carnavalito) - Charangojina
Daymé Arocena - Eleggua - Cubafonía
Nilza Costa - Atotô - Roots
Tania Giannouli Ensemble - Sun dance - Transcendence
Iva Bittová & Čikori - Želé- At home
Mallebrok - Langdans - Levende brav
Anna & Elizabeth - Hop High - Hop High/Here in the Vineyard [single]
Praed - Pyramids in the sky - Fabrication of silver dreams
Baba Zula - Cecom - XX
Baba Zula - Park dub [+Uchi Uchida] - XX
(Baba Zula - Özgür ruh - XX)
Foto / Picture: Tania Giannouli
Jueves, 05 de Enero de 2017 17:53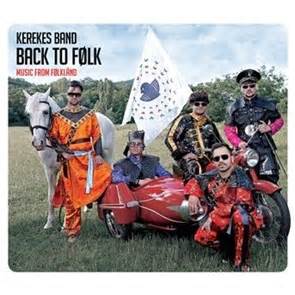 - Devaneos europeos
- European flirtations

Programa nº 2 de enero, con diversas inspiraciones europeas: célticas, escandinavas, húngaras, italianas, cosmopolitas...
Show #2 of January, wit a bunch of European inspirations: Celtic, Scandinavian, Hungarian, Italian, cosmopolitan...
Unaja - Ainaki aikani - Unaja
Kerekes Band - Flower páva - Back to Folk
Motion Trio - U-dance - Metropolis
Germán Díaz, Valentin Clastrier & Matthias Loibner - Lettre pour Béatrice - Tri ninery / Three hurdy-gurdies
Valentin Clastrier & Steven Kamoerman - 11,5º - Fabuloseries
Bran - Beaj vat! - Beaj vat!
John McSherry - The golden mean - The seven suns
Highlanders - The butterfly - Cruce de caminos
Gruppo Spontaneo Trallalero - Nel silenzio - Cantö riöndö
DeCalamus - Danza dell'albero di maggio - DeCalamus
Mascarimirì - Zubentana - Pizzica dance hall party
Mamud Band - Afro future funk [+ Simone Maggi, Paolo Profeti] - Dynamite on stage!
(Mascarimirì - Pizzica de Aradeo - Pizzica dance hall party)
Jueves, 05 de Enero de 2017 16:25
- Transglobal World Music Chart - Enero / January 2017

Programa nº 1 de enero y del año, con el repaso de la Transglobal World Music Chart de enero, según la votación de un panel de especialistas en músicas del mundo de todos los continentes, del que los hacedores de Mundofonías son miembros fundadores y coadministradores.
Show #1 of January and of the year, reviewing the Transglobal World Music Chart for January, selected by a panel of world music specialists from all the continents of which the Mundofonías' presenters are founder members and co-administrators.
The Nordic Fiddlers Bloc - Da Scallowa lasses / Lorna's reel - Deliverance
Nilamayé - Regresa pues - Las flores del sol
Kanazoé Orkestra - Fantanya - Miriya
Piccola Orchestra Gagarin - Piaghesa - Vostok
Raphael Gimenes - Igarapé - Raphael Gimenes & as montanhas de som
Lolo Lovina - Verka kaludjerka - RromAntics
Cemîl Qoçgîrî - Ero bezar - Zalâl
Gaye Su Akyol - Kendimden kaçmaktan - Hologram imparatorluğu
Voxtra - Ngreu moj naze - The encounter of the vocal heritage
Noura Mint Seymali - Ghlana - Arbina
(Noura Mint Seymali - Na sane - Arbina)
Miércoles, 04 de Enero de 2017 16:34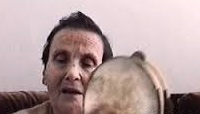 - Mediterráneo, Latinoamérica y adiós a Bienvenida Aguado
- Mediterranean, Latin America and farewell to Bienvenida Aguado
Programa nº 8 de diciembre, con el recuerdo a la desaparecida cantora turcosefardí Bienvenida Aguado, junto con otras músicas mediterráneas, afrocolombianas y argentinas.
Show #8 of December, with a tribute to the late Turkish-Sephardic singer Bienvenida Aguado, and more Mediterranean, Afro-Colombian and Argentinian music.
Dražen Franolić, Kamenko Ćulap & Marko Jovanović - Jasmin - Put
Bienvenida Aguado - El festín de Hanukáh - Bienvenida Aguado & Loretta Gerassi: Chants judéo-espagnols de la Mediterranée orientale
Bienvenida Aguado - La muerte del duque de Gandía - Bienvenida Aguado & Loretta Gerassi: Chants judéo-espagnols de la Mediterranée orientale
Wahid - Treehouse - Resonance
Río Mira - Adiós, morena - Adios, morena [EP]
Totó la Momposina - Adiós, Fulana (original version) - The garabato sessions: Remixes [EP]
Pixvae - Este niño quiere /Monte en el reloj - Pixvae
Juan José Mosalini, Jorge Rodríguez & Sandra Rumolino - Michelangelo 70 - Alma de tango
Orquesta el Arranque - Pa'l arranque - 20 años: En vivo en Café Vinilo
Melina Moguilevsky - El miedo - Mudar
Nico Cércola - Laberinto - Rebelión urbana
Santiago Córdoba - Mamila - Qué canchero: New sounds of Argentina [VA]
Foto / Picture: Bienvenida Aguado
Jueves, 29 de Diciembre de 2016 17:27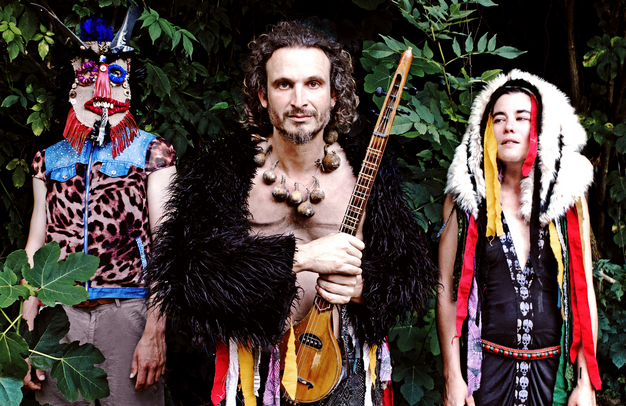 - Gallegoportugueses y afrotropicales
- Galician-Portugueses and Afro-Tropicals
Programa nº 7 de diciembre, con músicas de aires gallegoportugueses y afrocaribeños.
Show #7 of December, with Galician-Portuguese and Afro-Tropical music and sounds.
Radio Cos - Santa Mariñistán - Pasatempo
Talabarte - Sísamo Road - Fake
Ariel Ninas & César Prata - Adeus, Maria da Graça - Cantos de cego da Galiza e Portugal
Mariano Marovatto - Lá cima ao castelo - Selvagem
Mariano Marovatto - Embarquei para Portugal - Selvagem
Celina da Piedade - Segredo - Sol
Diabo a Sete - Cantiga de vir ao mundo - Figura de gente
Bicho do Mato - Pato psicopata - A vingança do bicho do mato
Djé Balèti - Gâté - Moko
Simon Bolzinger - Rumba para América / Dónde andabas anoche - Tambor y canto
RAM - Papa loko (se van) - RAM 6: Manman m se ginen
Le Tout-Puissant Orchestre Poly-Rythmo - Heritage - Madjafalao
Foto / Picture: Djé Balèti
Jueves, 29 de Diciembre de 2016 16:08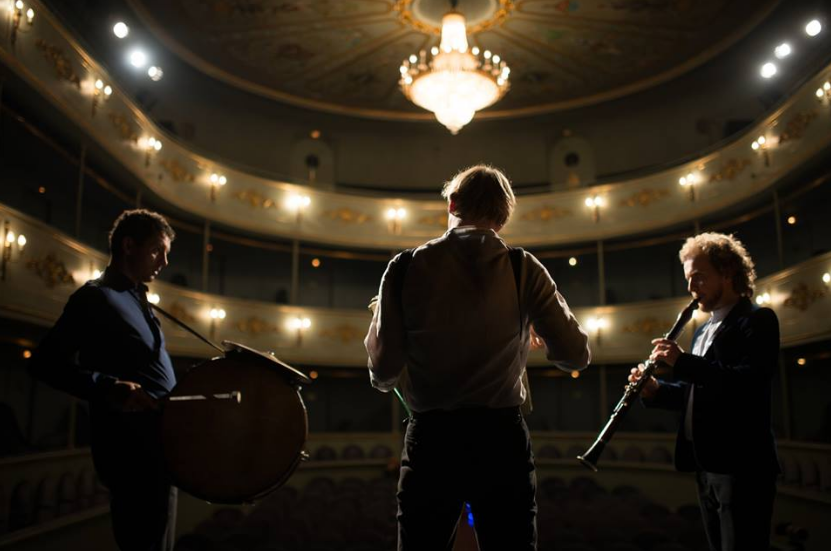 - Polonia en el corazón
- Poland in the heart
Programa nº 6 de diciembre, con un especial lleno de joyas de la música polaca.
Show #6 of December, with a special show plenty of Polish music gems.
Kapela Metów - Ogrywka chmielowa - Muzyka źródeł vol. 31 / Sources of Polish folk music
Kapela Metów - Jechały z górecki - Muzyka źródeł vol. 31 / Sources of Polish folk music
Kapela Brodów - Mazur źydowski / Jewish Mazurka - Don´t panic! We're from Poland. Folk, traditional and world music [V.A.]
Mieczysław Adamus - Oberek - Muzyka ocalona: Łowickie 1952-1959
Franciszek Maradzieki - Skowronek  - Muzyka ocalona: Łowickie 1952-1959
Wiktoria Zbikowska - Uśnijże my uśnij albo my urośnij - Muzyka ocalona: Łowickie 1952-1959
Kaja Prusinowski & Janusz Prusinowski - Uśnijże mi, uśnij - Gdzie się podział Kusy Janek?
Banda Nella Nebbia - Screaming rondo - Turkish it
Maria Pomianowska & Groupe Gaindé - Listek na Kalinie - Don't panic! We're from Poland. Folk, traditional and world music [V.A.]
InFidelis - Zasiany - Project Kolberg
Ania Broda - Na polu sosna - Thousand lakes
Maciej Filipczuk & The Wedding Guests - Mazurki z repertuaru Kazimierza Mety / Mazurkas from the repertoire of Kazimierz Meto - NOW! The New Tradition Polish Radio Folk Festival
Siegra - Mach - Memories of the stone
Janusz Prusinowski Trio - Mazurek skarga - Po kolana w niebie
Jacek Hałas - Piękna duszo, śliczny kwiecie - Zegar bije
Foto / Picture: Janusz Prusinowski Kompania, por/by Isa Saiz
Domingo, 25 de Diciembre de 2016 13:52
Favoritos Mundofonías | Diciembre 2016
Mundofonías' Favorites | December 2016
Voxtra

- The encounter of the vocal heritage - Muziekpublique

Masoud Rezaei

- Nothingness - Rahgozar Haft Eghlim Records

Wati Watia Zorey Band

- Zanz in lanfér - Air Rytmo
Escucha el programa especial: / Listen to the special show:
Mundofonías Dic 2016 #3 | Favoritos de diciembre | Inspiraciones flamenquindias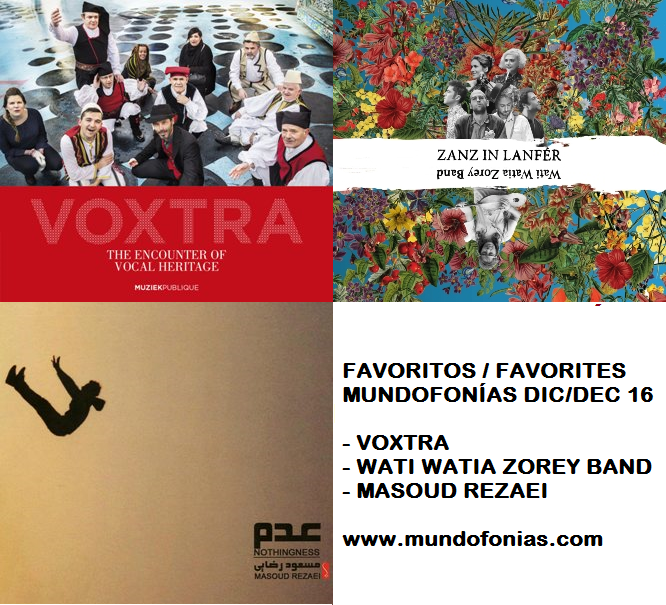 << Inicio < Anterior 1 2 3 4 5 6 7 8

9

10 Siguiente > Fin >>


Página 9 de 94