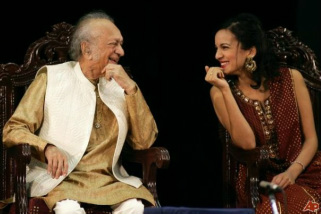 - Klezmer & sitar & jazz con sabor indio
- Klezmer & sitar & Indian flavoured jazz
Abrimos con klezmer pero pronto ponemos la mirada en Oriente para dedicar casi todo el programa a Ravi y Anouskha Shankar. Cerramos con jazz con sabio indio hecho en nuestra tierra ibérica.
We start with klezmer but very soon our eyes take a glance to East to dedicate most of the show to Ravi and Anouskha Shankar. We end with Indian flavoured jazz made at our Iberian land.
Trivium Klezmer - Balkan (Ekléztico)
Anoushka Shankar - Celebration (raga manj khamaj) (Home)
Ravi & Anoushka Shankar - Bangalore tilak shyam (Live in Bangalore)
Albert Sanz & SedaJazz BigBand - Anu raniya [+ Ganavya Doraiswamy] (L'emigrant)