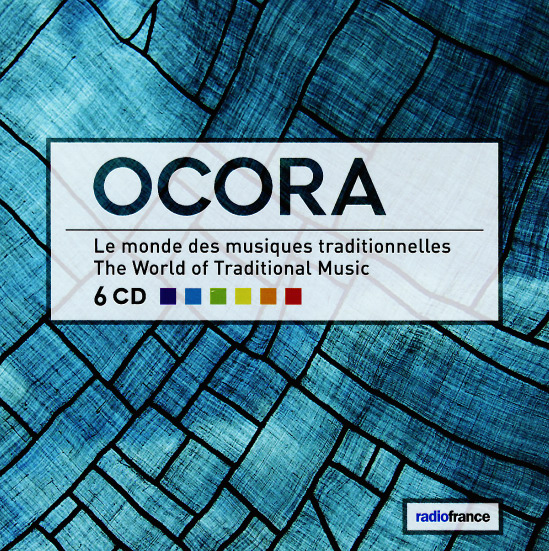 - Ocora: El mundo de las músicas tradicionales - I
- Ocora: The world of traditional music - I
Dedicamos el programa al recopilatorio Le monde des musiques traditionnelles compuesto de seis CD donde se repasa el fascinante catálogo del sello Ocora, creado por Radio France, la radio pública francesa. Nos zambullimos en la escucha de sus primeros discos, viajando por Senegal, Centroáfrica, Zimbabue, el mundo árabe, Azerbaiyán, la música de los uigures y Mongolia. Continuará.
We focus this show on the 6 CDs compilation Le Monde des Musiques Traditionnelles in which the catalogue of the fascinating label Ocora , created By Radio France, the French public radio, is reviewed. We dive into the first albums, traveling through Senegal, Central Africa, Zimbabwe, the Arab world, Azerbaijan, the Uigur people's music and Mongolia. To be continued.
[Artistas populares / Popular artists: Saalum, Senegal] - Yenniljo -

Ocora: Le monde des musiques traditionnelles. CD 1: Du Mali à Madagascar [VA]

[

Artistas populares: pueblo aka / Popular artists: Aka people] - Divoto -

Ocora: Le monde des musiques traditionnelles. CD 1: Du Mali à Madagascar

[VA]
Ambuya Nyati, Chipo Wazara, Spiwe Juma - Muroro - Ocora: Le monde des musiques traditionnelles. CD 1: Du Mali à Madagascar

[VA]

Aïcha Redouane

- Fa in dhukirat -

Ocora: Le monde des musiques traditionnelles. CD 2: Du Maroc à la Mongolie [VA]
Alim Qasimov

- Däramäd, Bardasht, Maye -

Le monde des musiques traditionnelles - Ocora: Le monde des musiques traditionnelles. CD 2: Du Maroc à la Mongolie [VA]
Abdukerim Osman Chimani, Sharizar Abdurahim, Ämätjan Muhämat

[et al.] - Nuskhä märghul (muqam Nava) - Ocora:

Le monde des musiques traditionnelles. CD 2: Du Maroc à la Mongolie [VA]
Ts. Chuluuntsetseg, Ts. Otgontsetseg, Ts. Tuyatsetseg

- Uyahan zambuu tiviin naran -

Ocora: Le monde des musiques traditionnelles. CD 2: Du Maroc à la Mongolie [VA]

Ravi Shankar, Kumar Bose

- Man pasand (dhun) -

Ocora: Le monde des musiques traditionnelles. CD 3: Pakistan, Inde, Bangladesh [VA]


(

Farida Parveen

- Pare loye jao amay -

Ocora: Le monde des musiques traditionnelles. CD 3: Pakistan, Inde, Bangladesh [VA])
La información de cada pieza se presenta en este formato: Artista/Grupo - Canción - Álbum.
Each track's info is presented in this format: Artist/Band - Track - Album