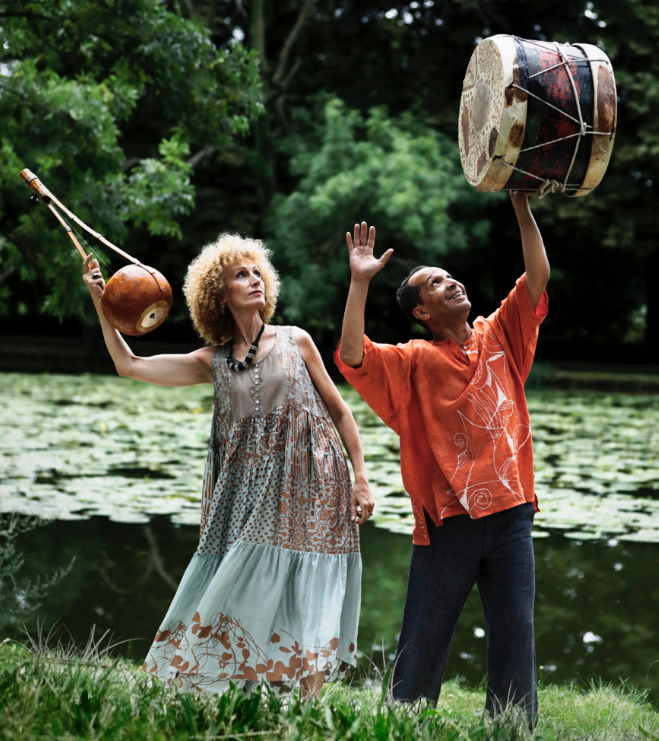 - Todavía hay lugar para el asombro
- There is still place for wonder
Lejos de esa misma canción que, con pocas variantes, repiten sin cesar casi todas las emisoras, Mundofonías sigue desgranando músicas que demuestran que todavía sigue habiendo lugar para el asombro, la maravilla, la sorpresa. Desde la raíz profunda, la inventiva o la sabia combinación, descubrimos maravillosas músicas que nos trasladan a Oriente, al corazón de África o al mundo de los sueños.

Far from that song, always the same song with little variations, that almost all the stations broadcast all the time, Mundofonías keeps on offering tunes that show that there is still place for wonder, for amazement, for surprise. From the very roots, the inventiveness or the wise blending, we discover musics that make us travel to the Orient, the heart of Africa or to the world of the dreams.
Khalid Kouhen & Marylène Ingremeau - Oïbir - Sillage
Khalid Kouhen & Marylène Ingremeau - Batum - Sillage
Saeid Shanbehzadeh - Djane showki - Pour-Afrigha
Saffron Ensemble - Don't - Will You?
Jaipur Kawa Brass Band - Thumri baaja - The Rough Guide to acoustic India [VA]
Nuru Kane - Afrika - The Rough Guide to the music of West Africa [VA]
Teonesse Majambere - Umuyange (Protect the environment) - Abatwa (The Pygmy): Why did we stop growing tall? [VA]
Širom - Čolni, čakam, čúvaj! (Boats, biding, beware!) - Lahko sem glinena mesojedka / I can be a clay snapper
Imagen: / Image: Khalid Kouhen & Marylène Ingremeau
La información de cada pieza se presenta en este formato: Artista/Grupo - Canción - Álbum.
Each track's info is presented in this format: Artist/Band - Track - Album