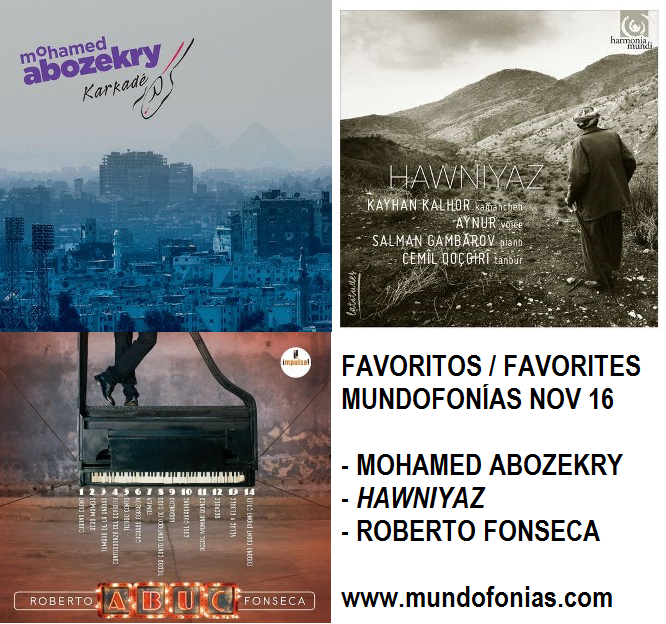 - Favoritos de noviembre | Jazz del mundo y otros sones
- November favorites | World jazz and other tunes

Programa nº 3 de noviembre, con los tres discos favoritos de noviembre (de Mohamed Abozekry, desde Egipto; el proyecto Hawniyaz, centrado en el Kurdistán, y el cubano Roberto Fonseca). Seguimos por Puerto Rico, explorando conexiones jazzísticas con sonidos afrocaribeños, africanos y árabes, y apoyando la campaña de micromecenazgo de Mara Aranda.
Show #3 of November, with the three November favorite albums (by Mohamed Abozekry, from Egypt; Hawniyaz project, focused on Kurdistan, and the Cuban musician Roberto Fonseca). We continue to Puerto Rico, exploring connections between jazz and Afro-Caribbean, African and Arabic sounds, and supporting Mara Aranda's crowdfunding campaign.
Favoritos de noviembre / November favorites
Mohamed Abozekry - Isis - Karkadé
Kayhan Kalhor, Aynur, Cemîl Qoçgirî & Salman Gambarov - Rewend - Hawniyaz
Roberto Fonseca - Cubano chant - ABUC
Jazz del mundo y otros sones / World jazz and other tunes
Ecos de Borinquen - Comerío vibra en mí - El alma de Puerto Rico
Little Johnny Rivero - Music in me - Music in me
Blick Bassy, Mario Canonge, Adriano Tenório - Edingue - CAB (Caraïbes, Afrique, Brésil)
Mara Aranda - Entre las huertas
Naïssam Jalal & Rhythms of Resistance - Dar beida - Almot wala almazala