Viernes, 16 de Enero de 2015 20:31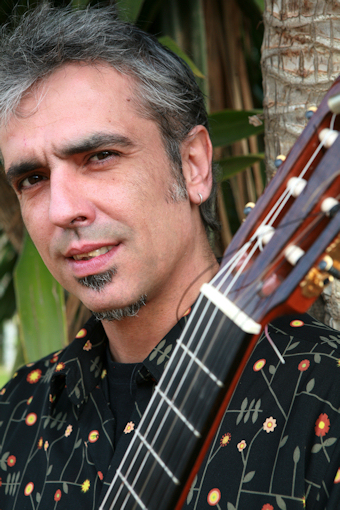 Voces ibéricas masculinas
Male Iberian voices
Vigüela - Gañaná
El Naán - Hijo del invierno
Rabih Abou-Khalil - Amarrado à saudade [+ Ricardo Ribeiro]
Janita Salomé - Maçãs se Zagora
Carles Dénia - Flor estranya
Miquel Gil - Van tres
La Beniterrània - Sentiments
Jose Menese - Sentenciao estoy a muerte (petenera)
Evo - Per Tropo Fede
Jako El Muzikante - Noches, noches / Un anyo ay
Foto / Picture: Carles Dénia
Viernes, 16 de Enero de 2015 20:28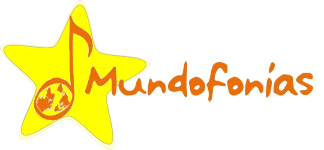 Favis 2014 - II
Noura Mint Semaly - Tzenni
Kasaï Allstars - Salute to Kalombo
Krar Collective - Ende Eyerusalem
Jyotsna Srikanth - Annapoorne (Riverboat Records: Music from the source)
Monoswezi - Mapfunde (Riverboat Records: Music from the source)
Arnold Chiwalala Band - Bandubandu (Arctic paradise 2014)
Arto Järvelä & Kaivama - Ukon ja akan riita (Arctic paradise 2014)
Aygün Bayramova - Neychun gelmez (Azerbaijani love songs)
Miralam Miralamov - Evleri var khana-khana (Azerbaijani love songs)
Viernes, 16 de Enero de 2015 20:25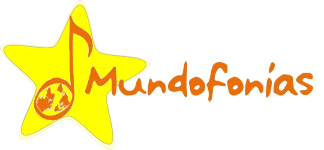 Favis 2014 - I
Söndörgő - Drago kolo
She'koyokh - Svatbarska rachenitsa / Yavuz geliyor & La comida la mañana
Anna Hoffman & Romancero Sefardí - Dezile al mi amor
La Jose - Paciencia
Metá Metá - Alakorô
Susheela Raman - Sharabi
Keyvan Chemirani et al.- Tasnif é «to bégouch»
Nishtiman - Nishtiman
Kyriakos Kalaitzidis et al. - The musical voyages of Marco Polo
Hijaz - Desert dancer
Viernes, 16 de Enero de 2015 20:03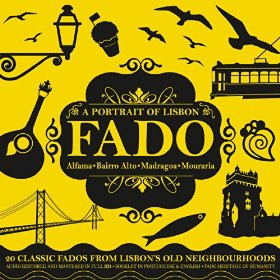 Fados y otros Portugales
Fado and other Portugals

Maria José da Guia - Uma casa portuguesa (Fado nas grandes vozes)
Alfredo Marceneiro & Fernanda Maria - Bairros de Lisboa (Fado. A portrait of Lisbon)
Carlos Ramos - Sempre que Lisboa canta (Fado. A portrait of Lisbon)
Hermínia Silva - Fado da Senhora da Saúde (Fado. A portrait of Lisbon)
José Moreira - Ai, Lisboa, Lisboa (Fado. A portrait of Lisbon)
Maria da Fé, Lina Maria Alves, Alberto Costa, Mariana Silva, Celeste Rodrigues e Argentina Santos -  Desgarrada (Fado. A portrait of Lisbon)
Celeste Rodrigues - Vento (Fado nas grandes vozes)
Amália Rodrigues - Madrugada (Fado. A portrait of Lisbon)
Amélia Muge - Bicho de conta
Janita Salomé - La rosa enflorece
Cristiana Aguas - Só porque não sei nadar
Ricardo Dias Ensemble - Sede e morte
Fernando Maurício - Oh, minha mãe! Minha Mãe! (Male voices of fado)
João Braga - Babel E Sião (Male voices of fado)
Dazkarieh - Lilaré dos cinco sentidos
(Dazkarieh - Moda de ceifa II)
Viernes, 16 de Enero de 2015 19:22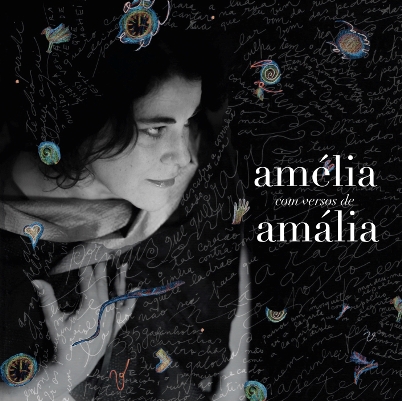 Lusofonías, orientes y flamencos
Lusophony, Orient and flamenco

Jueves, 15 de Enero de 2015 17:59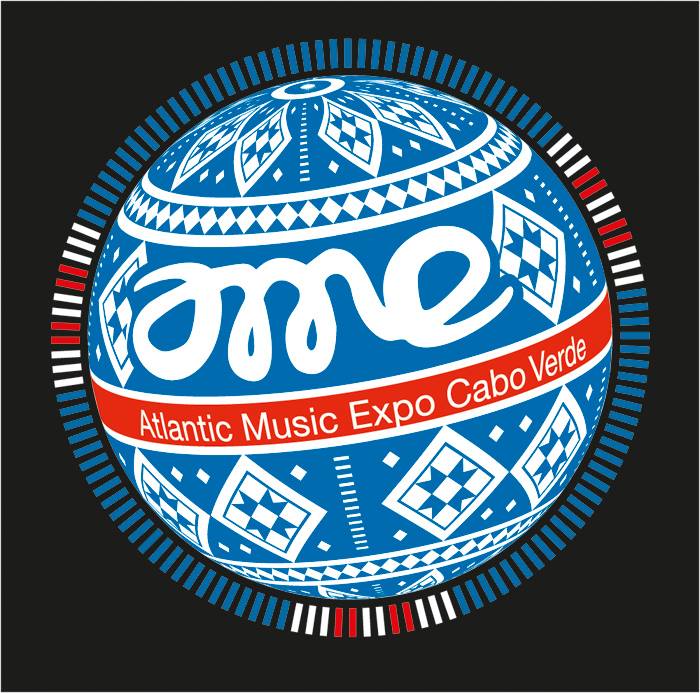 Atlantic Music Expo y otros viajes afro-nórdicos
Atlantic Music Expo and other Afro-Nordic trips

Ferro Gaita

- Fidjus funaná (Atlantic Music Expo Cabo Verde 2014)

Rui Cruz

- Dia dia (Atlantic Music Expo Cabo Verde 2014)

Bino Barros

- Cretcheu (Atlantic Music Expo Cabo Verde 2014)

Remna Schwarz

- Kabalindadi (Atlantic Music Expo Cabo Verde 2014)

Daniel Fernandes

(

Putchota

) - Alice (Atlantic Music Expo Cabo Verde 2014)

Afia Mala

- Gamelilo (Le SIMA à Dakar 2014)

Afrikän Protoköl

- I dansé (Le SIMA à Dakar 2014)

Himmerland

- Sacred fire

Habadekuk

- Rasmus storm [directo en / live at: Folk Spot Denmark 2104]

Minna Weurlander

- Adiós, Nonino
Lunes, 12 de Enero de 2015 19:54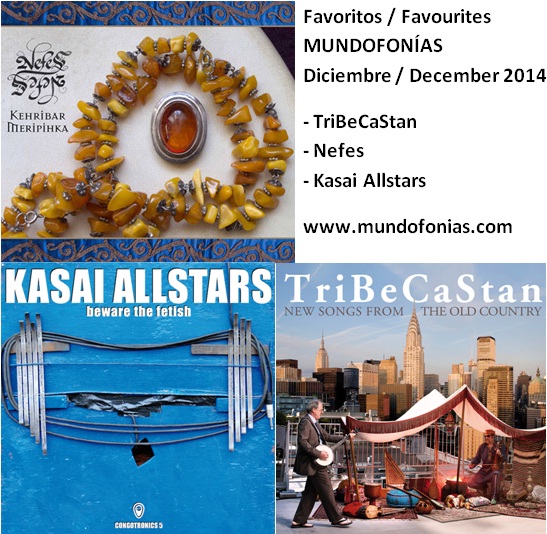 - Favoritos de diciembre + Seguimos el viaje
- December favourites + We continue travelling
Domingo, 21 de Diciembre de 2014 00:32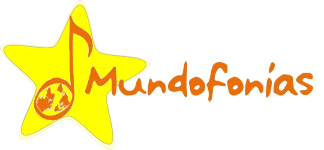 - Favoritos de Mundofonías: FAVIS 2014
- Mundofonías' Favourites: FAVIS 2014
Discos originales / Original albums
Hijaz

- Nahadin (Zephyrus)

Anna Hoffman

- Juego de siempre (Sketis Music)

She'koyokh

- Wild goats & unmarried women (Riverboat Records)

Nishtiman

- Kurdistan (Accords Croisées)

Susheela Raman

- Queen between (World Village)

Noura Mint Seymali

- Tzenni (Glitterhouse Records)

Söndörgő

- Tamburocket Hungarian fireworks (World Music Network)

Metá Metá

- Metal metal (Desmonta / Mais Um Discos)

La Jose

- Espiral (La Jose)

Kyriakos Kalaitzidis

(et al.) - The musical voyages of Marco Polo (World Village)

Kasai Allstars

- Beware the fetish (Crammed)

Keyvan Chemirani

(et al.) - Avaz - (Innacor)
Discos recopilatorios / Compilations:
Artic paradise 2014

(Music Finland)

Azerbaijani love songs

(Felmay)

Riverboat Records. Music from the Source

(Riverboat Records)
Esta lista es la selección de discos favoritos de Mundofonías del año 2014, que aparecen en orden aleatorio. La nuestra es una lista no jerárquica, no numerada, que recoge esas grabaciones que nos han resultado más interesantes y que más placer nos han proporcionado durante este año. Es una lista completamente independiente, no comercial, no sujeta a ninguna otra consideración que el propio criterio de los que hacemos Mundofonías, valorando la calidad e interés de los álbumes. Los discos valorados para elaborar esta lista son los trabajos completos y originales recibidos durante el año (o finales del año anterior), sin importar dónde ni por quién hayan sido editados o la distribución comercial que tengan.
This list shows the selection of Mundofonías' favourite records of 2014, appearing in an random order. Our list is a non-hierarchical, nor numbered one, and includes those recordings that have been more interesting for us and have given us more pleasure during this year. It's a completely independent, non-commercial list, not subject to any other consideration that the own criteria of those who do Mundofonías, just considering the quality and interest of the albums. The records evaluated to prepare this list are the original ones that we have received in its complete version during this year (or at the end of the last year), regardless of where or by whom they have been published or which kind of commercial distribution they have.
Jueves, 11 de Diciembre de 2014 18:51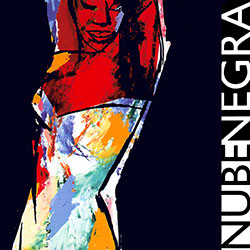 - Nubenegra y las músicas del los pueblos
- Nubenegra and the peoples' music
Escuchamos músicas del sello Nubenegra, recordando algunas de sus joyas con motivo del 20º aniversario del imprescindible sello fundado por Manuel Domínguez. Paseamos por el festival Al Son de la Subbética y nos quedamos finalmente con grabaciones de artistas populares de Yemen, el Magreb, India y España en grabaciones históricas realizadas por los etnomusicólogos Deben Bhattacharya, García Matos y Alan Lomax. El punto final nos llega desde Dinamarca, con una grabación inédita en directo de Trolska Polska.
We listen some music from the label Nubenegra, remembering some of the treasures of this indispensable label founded by Manuel Domínguez, in occasion of its 20th anniversary. Then we take a walk by Al Son de la Subbética festival and we find finally some popular artists recordings from Yemen, Maghreb, India and Spain made by ethnomusicologists Deben Bhattacharya, García Matos and Alan Lomax. At the end we listen a non-released live recording of the Danish band Trolska Polka.
Vieja Trova Santiaguera - El tren
Mariem Hassan - Mutamaniyat
Hijas del Sol - Tirso de Molina
Wafir - Lluvia
La Banda Morisca - Marianas
Bernardo el de los Lobitos - Yo vengo de Hungría
[Artista popular de Yemen / Popular artist from Yemen: Soshanna] - [Love song] (Music of the Oriental Jews - Deben Bhattacharya)
[Artistas populares del Magreb / Popular artists from the Maghreb] - Airag (Music of the Oriental Jews - Deben Bhattacharya)
[Artistas populares de Bengala / Popular artists from Bengal] - Bariyat ka dul dul (Music of the Santal tribe - Deben Bhattacharya)
[Artistas populares de Extremadura / Popular artists from Extremadura] - La rama (Magna antología del folklore musical de España - Prof. García Matos)
[Artistas populares de Castilla / Popular artists from Castile] - Ronda del caracol (The Spanish recordings - Alan Lomax)
Trolska Polska - Spirrevippen & grimlingerne (directo en / live in: 

Folk Spot Denmark 2014)
Jueves, 11 de Diciembre de 2014 20:30
Favoritos Mundofonías | Diciembre 2014 
Mundofonías' Favourites | December 2014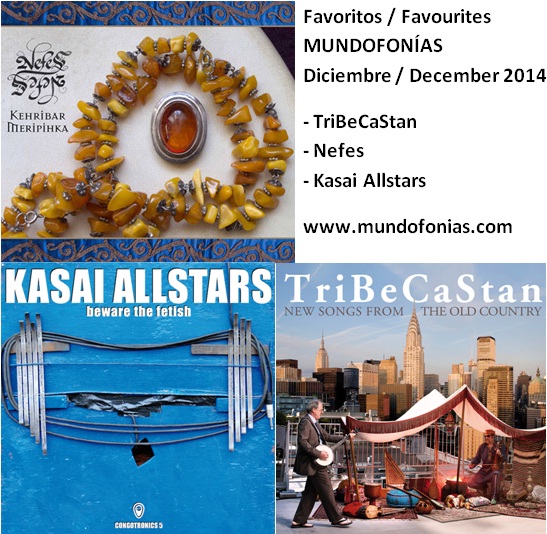 Domingo, 07 de Diciembre de 2014 13:16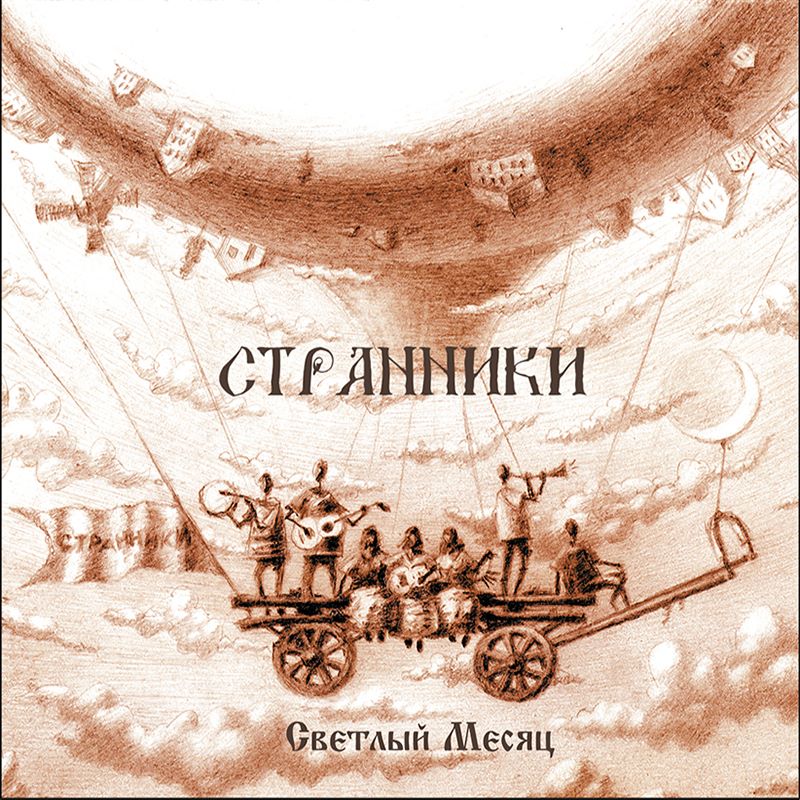 - Sketis Music & Homerecords.be

Suenan en este programa muchas de las nuevas e interesantes producciones de los sellos Sketis Music, desde Rusia, y Homerecords.be, desde Bégica.
In this show you can find some of the new and interesting productions from Russian label Sketis Music and the Belgian one Homerecords.be.
Bubamara Brass Band

- Vasja prelijte rakijom!

Stranniki

- Tausen

Lugovaya Arfa

/

The Grass Harp

- [The river song]

Algambra

- Night song

Artem Uzunov

- Solo darbuka

Art-Proekt Vasilyev Vecher

- Zhuravliny dolgi nogi

Vasily Evhimovich

- [Oh, you're my eagle]

Baraka

- Biyo laylo

Melike

- Kizilciklar oldumu

Mehmet Polat Trio

- You are not alone

Quinteto Astor

- Kathango

Tali Toké

- Dans les petites choses
<< Inicio < Anterior

11

12 13 14 15 16 17 18 19 20 Siguiente > Fin >>


Página 11 de 73